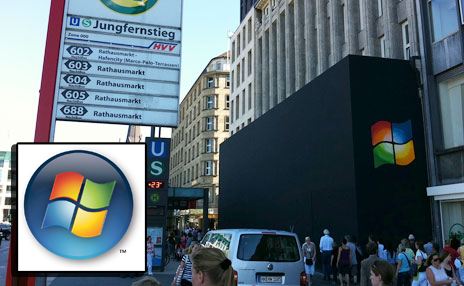 It's been back and forth on Twitter and all over other social networking sites. If any of you have ever seen an Apple store being built, they're usually encased in a huge black 'box' to prevent snoopers. Well, it seems that Friday morning, in Hamburg (I read somewhere this is going to be the biggest Apple store?), some Windows enthusiasts "vandalised" the huge black box with a very large Windows plaque, which was later painted over by one of the builders.

People started taking pictures and Twitter began to flood with various tweets :
"Windows logo placed on upcoming Apple store in Hamburg, Germany. Great troll" ... "The new Apple store in Hamburg gets a makeover", iFun.de were sent photographs of the logo; TUAW decided to analyse these with a photographic error level analyser tool (whatever that does?) and it showed that the photos were real. A video was later submitted... [watch the video here], '.wav collective' seem to be the group responsible for it. However, somebody has correctly pointed out that the logo is infact the wrong colours, mixing up the green and blue segments.

Certainly something different.