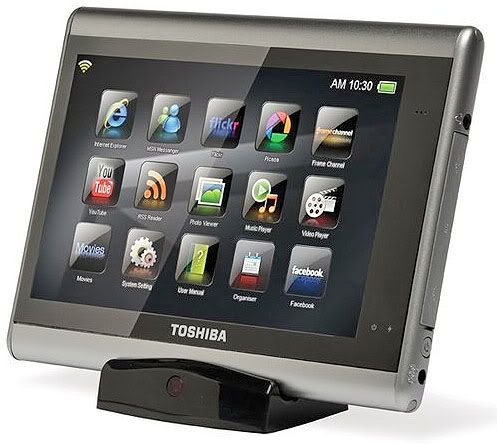 Ohkay, I admit it.. I am a bit obsessed with everythin' related to tablet right now ever since the rumors about
Apple's tablet
sprouted all over the net. But I guess I'm not going to be the only one, because looks like Toshiba also believes in tablet, the computer manufacturer which is largely based on Japan has started the race to market a tablet with an early introduction of its JournE Touch.
JournE Touch is a 7-inch touchscreen tablet powered by Windows Embedded (CE) OS and ARM processor, supports many media formats like: JPEG, MP3, Windows Media audio & video files, MPEG4, H.264, and including Divx.
The idea is to use the tablet with WiFi to access internet services such as YouTube, MSN Messenger, Picasa, Flickr and RSS feeds with the pre-installed IE and Windows Media Player 9.0. Toshiba plans to market the device in Europe with a different model that'll support access to the Acetrax video on demand service.
Erica Ogg from Crave reported that applications for the JournE is "when you want to access the Internet without booting your PC," said Toshiba executive Marco Perino. And it's an alternative to a smartphone, which Perino says "is not so practical because the keyboard is not the right size."
According to Martyn William's report from IDG Service (via PC World); an optional cradle adds a USB and HDMI (High Definition Multimedia Interactive) connector. The latter will enable it to be hooked-up to a TV set so content photos, video or content downloaded or streamed from the Internet can be viewed on a television. The JournE has 1GB of internal memory that can be extended to up to 32GB with a plug-in SD card.
Battery life is around 14 hours, according to Toshiba, so it will last considerably longer than a laptop. It will be available later this year and will cost €249 (US$356).