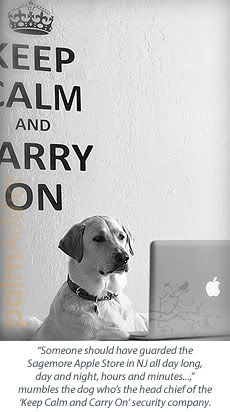 I remember how my ex-girlfriend loved to watch the "
Gone in 60 seconds
" movie which stars Nicholas Cage and Angelina Jolie whenever it's played in tv, me myself didn't really get what about the movie that excite her.
But upon reading the news about the burglary at Sagemore Apple Store in New Jersey a couple days ago, and after watching the video footage of the store's security camera, I think I'm beginning to understand...
Earlier this week, exactly on Wednesday, five burglars broke into the Sagemore Apple Store after smashing the glass door with a brick around 2:05AM and quickly clean up the Apple devices displayed in the store. They took 23 MacBook Pros, 14 iPhones, and 9 iPod Touches!
The burglars timed their break & entering plan right after the security guards made his rounds, they saw what they like, they entered the store, and then they all gone in only 31 seconds. Plain simple as Vini, Vidi, Vici...
Perhaps it has got somethin' to do with the excitement from rushing in and grabbing everythin' you can get your hands-on, maybe that's why women are so good whenever it comes to cleaning up the goods at the big sales... ;-p
But still, about those stolen MacBook Pros, iPhones and iPod Touches, I do hope Apple will be able to get them back in one way or another. Hopefully that "Find my iPhone" feature will finally come in handy for the company itself who made it, and let's just hope the thieves are not that stupid to bring the laptops to a Mac Genius Bar for repair. ~LOL~