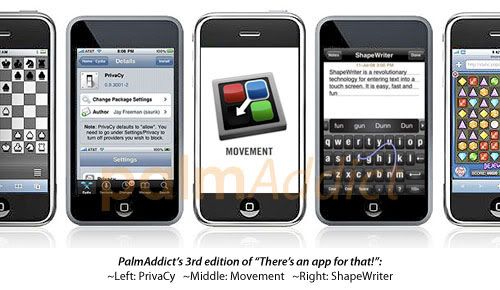 Another week went by since the
second edition
 of
"There's an app for that!"
, and now we've arrived at the third edition. Hope you'll like this one too..
With more and more apps are flooding into the App Store every day, it's imposible to keep track each and every one of them. Especially since there are more crap apps in there, rather than the one that's really useful for your need. Apple is proud with the abundant of apps inside its App Store, and even came up with a slogan for it: "There's an app for that!"
So with those facts in mind, I'm gathering around three of them, because who knows perhaps they'll come in handy for you someday, and I'll periodically release another edition when I found some interesting apps. Have a great start of the weekend y'all, and hopefully these apps can cheer you guys up.
PrivaCy
It was a quite of debate when news about how iPhone apps are sending data to 'home' (the developer who created the app) broke out on the net, in fact it is still now. It's a love and hate situation for iPhone users, since first of all the data sent 'home' is sensitive information for some users, and secondly the data can be used for good like for improving the apps by developers.
But nevertheless, for you who are not comfortable on knowing that some of the apps installed in your iPhone might be sending data without your consent, there's a free app in Cydia just to block all of those data tracking on (jailbroken) iPhone; it's called PrivaCy.
According to Patrick J from JAiB; the app adds a new item to the Settings app, right below 'Store'. When you tap on it in Settings you'll see a screen labeled 'Send Anonymous Usage Statistics' –and you can toggle On and Off this data collection for four leading companies (that provide this function within thousands of apps). Read Patrick's extensive blog to know more about data tracking by Pinch Media.
With this app installed in your iPhone, you can finally sleep tight again tonight. ;-p
Movement
Having hundreds of app within your iPhone is like collecting trophies, so some say, it's like a good reason to brag at your geek friends when all of you are hanging out in a bar. For an avid App Store visitor, having up to 100 or above apps seems like a normal behaviour, not to mention whenever new free apps are being offered for a limited time.
But managing each and one of the apps is just plain a headache to do, from the moment the newly installed app appears in home screen to the time you spent minutes / hours to rearrange it with the other app icons. It get worst when something bad happened, you have to restore the iPhone and later the app icons are scrambled again.
Thank goodness a developer name Jeff Stieler has created an application called Movement to manage the app icons arrangement on your jailbroken iPhone, but it is done through your Mac (at least OS X 10.5). And for you Windows users, too bad because Jeff says he is not going to create a Windows version of his app. Here's the quote from Jeff:
I am sorry, but I have no plans of porting Movement to Windows.
Instead, I will focus my free time into improving Movement as it currently exists.
My apologies to all the Windows users wanting Movement, I just don't have the time!
Perhaps it's about time you PCs switch to Mac. ~LOL~
ShapeWriter
This isn't exactly a new app because it's actually has been around for quite some time, ShapeWriter is an amazing and a well known app for helping those who have trouble writing with virtual keyboard on touchscreen smartphone. Users don't have to punch the desired buttons like they used to, but simply by dragging their fingers across on-screen keyboard to produce the words they want. Here's the explanation from the developer:
Shape writing, based upon nearly 10 years of research and development, is an easy, fast, and fun way to write on a computer or mobile device. Instead of "hunting and pecking" letters, single gestures on a touch keyboard produce an entire word. For example: a stroke that roughly connects "w" to "o" to "r" and ends on "d" is recognized by ShapeWriter's intelligent algorithms as the word 'word'.
According to Jason D. O'grady from ZDNet; the app is based on research that began in the late 1990's at IBM. Its Almaden Research Center published the first rigorous mathematical optimization result of touch keyboard based on the Metropolis "random walk"  algorithm — the same algorithm used by scientists to understand molecule structures. *wow!*
There are two version of ShapeWriter app in App Store; one is free and the other one is the pro version worth $5 per license that will give you cut/copy/paste, landscape support, custom colors, fonts and appearances, a practice game and the ability to turn off the email footer and ads.
ShapeWriter has been gaining numerous praise not only for iPhone, but also for Android.