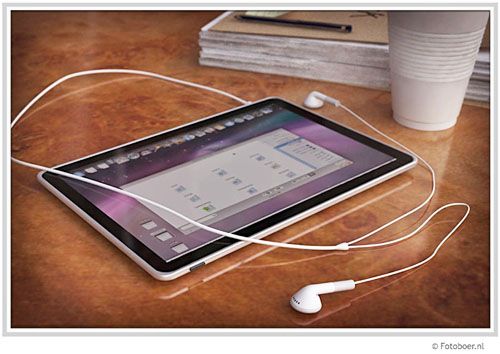 Everybody have their own opinion about the rumored Apple's tablet, it's the hottest topic around right now. Whenever the subject pops out, it attracts everyone's attention right away. Ranging from analysts to bloggers, they have been adding the fuel to keep that rumor mill churning up and burning for months. So at the end of the day, I can't help but to chime in my little squeaky voice about the anticipated yet never-existed (as far as we know it in real life) tablet device...
The facts or simply just rumors?
On early August, Kaufman Bros. a Wall Street analysis firm revealed that Apple had investigated screen sizes ranging from 4 inches to 12 inches. What for? Well, what else than for a tablet sized computer.
And not long after that, Piper Jaffray the senior analyst Gene Munster chimes in about the possibility of Apple's tablet: "Last week we spoke with an Asian component supplier that has received orders from Apple for a touch-screen device to be fulfilled by late [calendar year] '09," he writes. "This data point underscores our thesis that a tablet will likely launch in early [2010]."
Apart from the excitement of another highly rumored Apple event to be held on September, many have raised some voice about how the tablet won't even be announced at the event, in fact it's planned for early 2010.
The tablet is a no go for September event?
For those who have been keeping records of Apple events over the past four years, it is highly possible that Apple will hold a keynote event in early September like it did before. MacRumors has done us a favor by reminding us of the events in the past:
2005: Apple's "Here We Go Again" event introduced the Motorola ROKR mobile phone with iTunes support alongside the release of iTunes 5 and saw the introduction of the original iPod nano to replace the iPod mini.
2006: Apple offered the "It's Showtime" event introducing iTunes 7 and iPod updates, as well as a sneak peak at the "iTV" that launched several months later as the Apple TV.
2007: Apple held a "The Beat Goes On" event introducing the original iPod Touch alongside updates to the remainder of the iPod line, an iTunes 7.4 update, and iPhone price drops.
2008: Apple held a "Let's Rock" event to introduce iTunes 8 and new iPod Touch, Nano, and Shuffle models.
The similar event, if it does happening next month, will focus on music and entertainment. Jim Dalrymple from Loop Insight added in his point of view:
"Very reliable sources familiar with the product have said speculation of the tablet being introduced during the September event are flat out wrong. The Apple tablet, they said, would not see the light of day until the first part of 2010.
The event in September will be focused on music, which means we could see new iPods and perhaps some updates to iTunes. The tablet computer will not even be mentioned as part of the event, my sources said."
That is one disheartening rumor to be heard. One can only speculate that the tablet could not be announced at the September event because Apple is going to announce the all new iPod Touch with camera (also rumored) to compete with Microsoft's new Zune HD. But this is Apple we're talking about here, Steve Jobs could even introduce both the new iPod Touch and the tablet at the same time next month. You know how his mind work; unfathomable...
What is a tablet for?
That is a very basic question for everyone, including Apple themselves and end-users. Because the current tablet computers I know in the market today are not doing so well, but most of them are Windows-powered. So Apple ought to think how to turn around the mistakes made by Microsoft (and Linux) to market a failing category of mobile computing, Apple should have more tricks in their sleeves to impress the nowadays greedy consumers.
Again, Piper Jaffray the Senior Research Analyst at Gene Munster states in a report about the use of Apple's tablet:
"Key apps, like Safari and Mail, could be made larger to make use of the larger screen resolution, making Apple's tablet appealing for more extended use, and the company could continue to leverage its primary asset in mobile computing, the App Store, in this scenario. We believe this is the most likely scenario given the success of the multi-touch platform and the App Store ecosystem, which could be accelerated with a tablet device."
All in all, the tablet will be used primarily for web surfing, e-mail, and digital media, competing with netbooks without being a netbook. That is in rhyme with Steve Jobs' statement about netbooks: "We don't know how to make a $500 computer that's not a piece of junk, and our DNA will not let us ship that." So Apple is going to make a mobile device that works close like a netbook, but doesn't look like a netbook and obviously won't call it as a netbook.
Look and name can be different, but the guts inside can bring close the similarity. Jason D. O'Grady from The Apple Core blog said he has received a leak from a source back in May:
"According to my source said tablet could arrive in the September or October, it will run the full Mac OS X, have a slot loading SuperDrive, an "iPhone-type" GPS chip and an Intel Core Duo processor – presumably Intel's Atom."
Speaking of hardware specifications, Apple has already arrived to the point where it can make a gorgeous tablet computer. Apple has managed to put in so many small sized hardwares into constrainted and limited space in almost its product line-ups. Take MacBook Air for an instance; all Apple need to do is replace the screen with multi-touch display like the one used in iPod Touch, flip the thin display to always face upward, remove the hinge, remove the keyboard and then voila! You got yourself an Apple tablet.
O'Grady goes on saying that a tablet is perfect for student to take to school, because it's "a Kindle-killer and the ultimate eBook reader." Then comes in a backing rumor from Gizmodo, where its Editorial Director Brian Lam received a phone tip from an insider at Apple which stating that the tablet "will come in two editions, one with a webcam and one for educational use."
The tipster continue and said that the tablet "would cost $700 to $900—More than twice as much as a netbook." That does sound very Apple-like devices, the high price tags. But to put that kinda price tag for students, or for educational use device? That's a pretty steep price for average students, I suppose if that's the price then Apple is targetting a very niche consumer market...
I don't want to argue if that's a wise decision or not for Apple to market a tablet, because the Cupertino-based company has done wonders of its products while the competitors are still trying to figure out why and how.
The look that can kill
There's nothing more intriguing and appealing than a new gadget with its new sexy look, any Apple fan-boys are willing to kill to have a first look of the tablet, literally speaking. BGR has stated that there are around 3,563,849th images of Apple's tablet so far in the net, but it got one that is close enough to the real deal.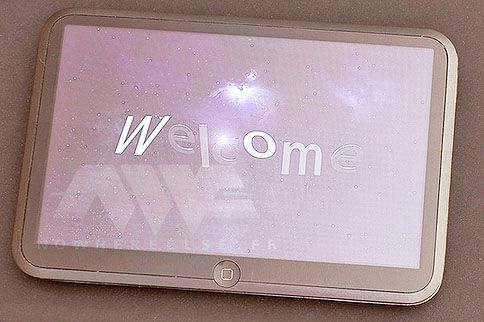 Unlike the others, which are mostly only generated from computer graphic rendering, the photo above looks to be showing the Apple tablet in real life. A French blog has posted up the photo, but not saying anything of its origin nor its source. Nevertheless, the photo shows almost everything like the tipster has said to Gizmodo:
"The device, which I've held mock ups of, is going to have a 10 inch screen, and when I saw it looked just like a giant iPhone, with a black back— although that design could change at any time" they said, "with the same black resin back, and the familiar home button."
If that is the real thing, then although I can't speak for everyone, it's quite dissappointing. Not exactly what we have in mind, especially when you've seen Jesus Diaz's (Gizmodo) "wet dream" concept of his own iTablet.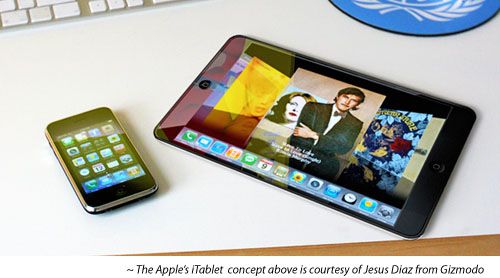 But what do I know, right? I'm not an Apple analyst, even the real ones were often wrong. As for me; the iTablet, or iPad, or whatever Apple will call its tablet is just like a giant iPod Touch. If the Apple's tablet look is just like how Jeroen (Flickr link) pictured it at the top of this post, then that's enough for me to buy one. ;-D