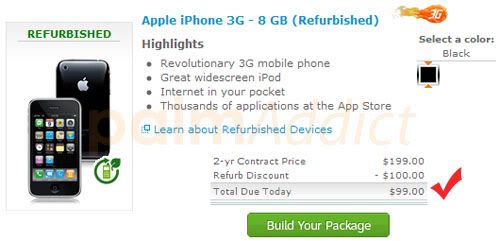 Another day passes by, it's getting nearer to Apple's WWDC '09. While some of us awaits impatiently for June 8th to arrive, the wait has just become much of a burden, especially for Apple & iPhone fans; because on the other side of the camp they've already kinda half-celebrate the launch of Palm Pre™ with so many instant reviews which pop out altogether on the same day.
Who can resist a shiny new gadget? I, for one, will definitely get one that is if I got the money. For many of us, the price of the new gadget will somehow becomes a certain kind of 'burden' we must carry if we choose to replace our old device with the new one. Not to mention a freshly new gadget which came out right from the oven, served hot on a silver plate, along with the dressings on the side; the price is insanely too high to pay.
So that's why when the rumor about $99 3rd gen iPhone surfaced not so long ago, it gives a ray light of hope for people like me.
BGR
was reporting that the Canadian wireless carrier Fido has leaked a roadmap slide showing a 4GB iPhone priced at $99, it got the same 3G connection and 2MP camera as current model. One can only assume this is just a 'photoshop-ed' image to tease us all about the possibility of cheap iPhone, but is it?
Well, this might not the same as the new iPhone hardware that is said to be introduced at WWDC '09, but then you know how the saying goes:
"Beggars can't choose..."
You can actually own a $99 iPhone now, but there's a big catch with long string attached: it's a refurbished 8GB iPhone 3G. Rick Broida's (from the
Cheapskate
blog) eagle eyes have spotted this rare offer from
AT&T
, and he also found out that its warranty is only 90 days instead of the usual 12 months coverage.
Aw, shucks... This isn't exactly what you were hoping for eh? ;-p