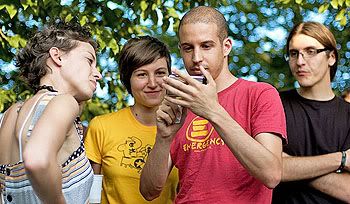 While Microsoft is trying its hardest efforts to tarnish Apple's long reputation of being a maker of cool computers with the latest of its Laptop Hunters ad, on the other side of the world there's another little sales pitch which Microsoft should be worried about...
Missouri School of Journalism is apparently telling its students to buy Apple's computers, including the iPhone & iPod Touch in order to meet the requirement to study at MU (that's the short for Missouri University, not Sammy's favorite football club ~LOL~). At the university's
website
reads:
"Effective Fall 2009, students majoring in Journalism at Missouri are required to have either an iPod Touch (the minimum requirement) or iPhone to allow for the delivery of freshman-orientation information as well as course material. Students will electronically download such material to either of those devices from iTunes University, a no-cost component of the iTunes Store."
What's more, MU is recommending the students to purchase the required 'hardware equipments' at its own store called TigerTech:
"We strongly recommend that you wait and buy through TigerTech (formerly Computer Spectrum) at the University Bookstore. We have arranged for special low pricing from Apple, and that's where you'll almost certainly get the best deal."
MU tries to explain the reasons on why the university chose Macs over PCs, which I think will cause Microsoft CEO Steve Ballmer have a heart attack if he read them:
"Yes, the device is a music player, but it is much, much more. TigerTech estimates that 90 percent of Missouri students have iPods. We are trying to take advantage of that as a means to deliver course content. The video capability of the iPod Touch and iPhone makes this an ideal delivery platform and gives students a device on which they can review lectures and other course material while on the go or working out.

The faculty has designated Apple Computer as its preferred provider for two primary reasons: (1) Apple's OS X operating system is based on Unix, which makes these computers far less susceptible to viruses than other computers. Viruses are a serious problem on university campuses. (2) Apple MacBook and MacBook Pro computers come bundled with iLife, a suite of applications ideal for learning the basics of photo editing, and audio and video editing. We'll use those programs in several classes."
These are beginning to sound almost like those
Get a Mac ads
, but at the beginning of the announcement, MU already stated the minimum requirement that well at least a bit relieving for Microsoft:
"Each year, the school recommends two or three configurations for all entering freshmen and graduate students. The minimum recommended configuration is a wireless laptop computer with the Microsoft Office suite of software.

Additional software may be required in some specialties by the time students reach the junior year or in specific graduate areas of emphasis. Photojournalism majors, for example, will need to purchase Photoshop, a program for toning photographs for publication.

Students are encouraged to acquire wireless laptop technology from Apple, which the School has designated as its preferred provider, but students also will have a choice of a Windows-based alternative."
But does it? Should Microsoft breathe easier settling with just that? IMHO not, especially when some of the last of the university's announcements are read like these:
"Last year, 99.5 percent of incoming students chose the Apple option.

TigerTech estimates that 90 percent of Missouri students have iPods.

Almost 100 percent of last year's freshmen chose Apple computers."