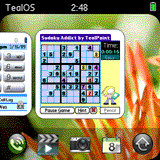 [From Eric Mann] There is a new beta of TealOSTM for PalmOS that you can take advantage of.
Version 1.14 - March 5, 2009
Added ability to map any quick launch button to apps screen
Added ability to map 5th quick launch button to programs
Added option to disable icon image processing
Added option to hide launcher button (for super minimal display)
Added option to show smaller, higher quality cards
Added option to turn off rounded card corners.
Added support for tapping on icons a second time to restore normal title text
Improved card scaling to letterbox square screenshots on rectangular cards
Improved colors of processed icons
Improved default settings to find correct phone app on Treo 755p and Treo 680
Improved screen dragging "rail-snap" to lock axis once movement begins
Fixed crash bringing menu on text prefs screen
Fixed force scan function to work even if application screen was previously opened
Fixed icons to pull correct carrier-customized names
Fixed support for apps like Quick Tour that launch non-application modules
Read in full.