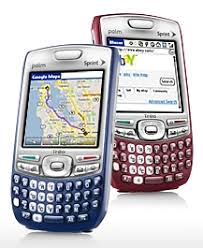 [From Harold] My Treo 755p had been taking blurry pictures for a while. I thought perhaps
I had never before realized how poor the photos from the 755p were, until I saw some old pictures I had taken with it which were quite sharp. I then took photos with another 755p and could definitely tell how bad the situation was.
A call to Palm tech support resulted in the inevitable instruction to hard reset the device. Why does everything diagnostic require a hard reset? What's going to happen when the Pre has no removable media and the same bozos at tech support are telling us to 'hard reset' the Pre?
Do *you* have enough wireless bandwidth to completely restore your smartphone in, oh, say, under 2 hours? I don't THINK so. A new Pre is going to require a new tech support, but I digress.
In any event, of course the pictures were still lousy with the 'vanilla' Treo, and eventually, they agreed to honor the warranty claim (making my next Treo 755p my third warranty replacement.)
And within minutes, literally minutes, I was back up on my blurry Treo with
the SD backup from NVBackup.
Once in the morning, once at night, and I don't worry about it.