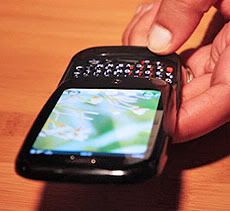 MobileDivide managed to interview Palm VP of Design Peter Skillman during CES 2009, where he talked about the design choices taken when his team made the Prē™.
One thing we can't see in the video is that 'serkoart' from MobileDivide noticed when Skillman showed him how the Prē™ works, the Prē's™ 3MP camera was very snappy taking pictures. He said the webOS™ immediately prepared to take another shot, unlike other smartphones including iPhone which need few seconds to process the captured image before ready for the next one.
Another new magic shortcut made easy by Palm in the upcoming Prē™ is the keyboard's spacebar key used for taking pictures in camera mode, no need to use the on-screen button or the side shortcut button. Looks like Palm has made this as a native shortcut in Prē™, it does make sense to use the built-in sliding keyboard; simple but enough to show all of us how much the design team has put plenty of attention to the details of the Prē™.
My wish to Palm is the same like 'serkoart's'; let's all hope Palm will keep, or even better improve the webOS™ this lean and snappy until the Prē™ is launched and land on our palms. Hopefully the recent brawl talks coming from Apple won't delay Palm's last hope…
Have you drool a bucket yet? If not, then get ready to fill up the empty bucket with watching the embedded video below. Enjoy!
Sources are from MobileDivide, via PreCentral.