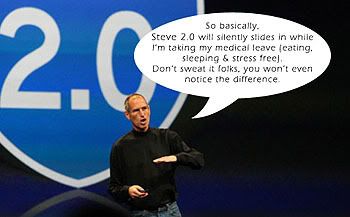 The famous Apple CEO Steve Jobs has finally cried out for a time-out, on Wednesday he announced with a letter of note to Apple employees that he was taking a medical leave until June.
The surprising leave of absence note was followed after Jobs tried to calm everyone about his health issue with a personal letter last week, he said a "hormone imbalance" was robbing his body of proteins and causing him to lose weight.
The fuzz about Jobs' health was originally began when Jobs made a stunning slim appearance back in June at a company conference for programmers, Jobs confessed to The New York Times that he was suffering from digestive difficulties related to an operation he had as part of his pancreatic cancer treatment. Here's what Jobs wrote to Apple employees:
Team,
I am sure all of you saw my letter last week sharing something very personal with the Apple community. Unfortunately, the curiosity over my personal health continues to be a distraction not only for me and my family, but everyone else at Apple as well. In addition, during the past week I have learned that my health-related issues are more complex than I originally thought.
In order to take myself out of the limelight and focus on my health, and to allow everyone at Apple to focus on delivering extraordinary products, I have decided to take a medical leave of absence until the end of June.
I have asked Tim Cook to be responsible for Apple's day to day operations, and I know he and the rest of the executive management team will do a great job. As CEO, I plan to remain involved in major strategic decisions while I am out. Our board of directors fully supports this plan.
I look forward to seeing all of you this summer.
Steve
Timothy Cook is chief operating officer at Apple, while Philip Schiller is a senior vice president who as you may have know it that he's the one on stage at the Macworld conference last week replacing Jobs. Jobs promised to make a come back in June later this year, but Apple shares dropped sharply in after-hours trading after the release of the letter, losing $6.03, or 7.1 percent, to $79.30. The stock fell 2.71 percent in regular trading amid a broad market slump.
There is of course a huge concern of what really make the hard working psychedelic Apple CEO to take 6 months of rest, and what did he really mean by saying his "health-related issues are more complex" than he thought. Once again New York Times (via TiPB) provided a deeper insight on Jobs' health issue:
"Two people who are familiar with Mr. Jobs's current medical treatment said he was not suffering from a recurrence of cancer, but a condition that was preventing his body from absorbing food. Doctors have also advised him to cut down on stress, which may be making the problem worse, these people said."
The stock market's reaction and Apple shares are both in line with the beating sound of Jobs' heart, and this doesn't look good at all for Apple's future. It's about time for Apple to think about preparing a new leader and management, that'll succeed Jobs legacy not the ones that'll lead the shares drop even further down.
"These are times where you reflect about what Steve Jobs means for the company," said Gene Munster, an analyst at Piper Jaffray. "At the end of the day, investors need to come to grips with the reality of a post-Steve Jobs world. This is the most urgent wake-up call they have had."
Is there Steve 2.0 ready out there?