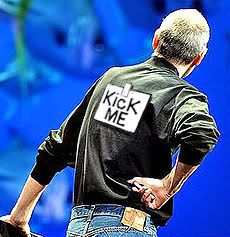 While we're getting near to the end of this year and preparing to welcome new year 2009, along with great expectations from great events such as Macworld and CES 2009, the biggest news around right now is no longer about Apple's netbook or Nano phone; but it is the announcement of Steve Jobs who will not deliver his traditional keynote at Macworld expo next year.
That's not all, Apple also announced that Macworld Conference & Expo 2009 will be the company's last appearance. Adding more blow to criple the decade old trade show, where previously Belkin and Adobe has both announced their withdrawal from the show. Here's the official statement posted on Apple's web site:
"Apple is reaching more people in more ways than ever before, so like many companies, trade shows have become a very minor part of how Apple reaches its customers. The increasing popularity of Apple's Retail Stores, which more than 3.5 million people visit every week, and the Apple.com website enable Apple to directly reach more than a hundred million customers around the world in innovative new ways."
Or in other word, Apple is saying that expos and converences like Macworld only made little impact from what the company is hoping to introduce its new products. And Apple probably feels more comfortable to do that on their own time table, like for an instance when they introduced the aluminum unibody for the new MacBook line-up at their own headquarter in Cupertino.
"I think it's the end of Macworld Expo," Michael Gartenberg, vice president of market research firm JupiterMedia and editor of the MobileDevicesToday blog, told Macworld. "It's the end of an era."
Of course there are plenty other reasons for Apple to pull out from Macworld, like Steve Jobs' health issue or this is just a plot to hand down the one-man-show keynote action to an appropriate successor. So to fill in the space that Steve Jobs has left on, Apple appointed Senior Vice President of Worldwide Product Marketing Phil Schiller (inset picture) to take the stage at Macworld in early January next year.
"Unlike other companies, Apple are able to draw press and analysts to an event anytime they want," said Gartenberg. "Without Steve Jobs it's probably going to be a tame Macworld this year," he said.
Personally, I wish this is not a sign of Steve Jobs is getting ready to retire sooner than expected from his position as the Apple CEO. No matter how often we (the blogosphere) have made fun out of Steve Jobs, it'll never be the same without the psychedelic leader of Apple. Or like the legendary Joan Jet best expresses my feelings towards Apple at this moment (via iPhone Savior): "I hate myself for loving you!"
And my last wish of good luck for Phil Schiller when he finally take the stage on Macworld 2009, is hopefully the angry & dissapointed Apple fan-boys are not going to throw shoes at him during keynote. ~LOL~