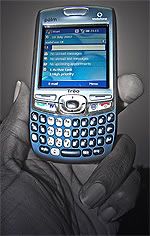 Palm is gonna take another major hit for their next quarterly earning projection, where this time is not coming from bad-mouthed bloggers that often say how Palm is dying; but this one comes from Changewave's survey on U.S. corporates IT spending.
The survey results show larger companies are still more willing to spend their corporate money on BlackBerry handsets for their employees, while small to medium sized companies (under 1,000 employees) are interested in iPhone 3G.
Further confirming that the iPhone 3G is having a positive impact on the corporate market - nearly one-in-five respondents (18%) say the release of the 3G has made their company more likely to purchase Apple products in the future.
Palm is struggling on the bottom, with only 5% of the companies who are planning to buy more Palm product in the future. It seems the latest Palm's pride and joy: the Treo Pro is not hitting the right spot on the corporate heart. I don't like to use the often used word, but Palm is indeed in "dying" need to make a more appealing & alluring Treo design.
Our prayers, along with our fingers crossed are always up for you Palm. Don't you dare disappoint us now... ;-p
Sources are from Changewave blog, via C|Net Apple blog.