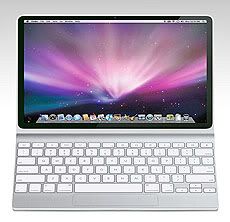 The unveiling of new MacBook line-up for 2008 has been done, before that every Apple enthusiasts have expected Steve Jobs to announce a new Mac with low price & limited features. Those two traits are usually possessed by netbook, the new rising category that quickly becomes popular among users with limited budget. Unfortunately, there's no such Mini MacBook / MacNetbook to be seen yet.
Not long after presented the MacBook 2008 line-up, Steve Jobs said during the company's fourth quarter earning conference that Apple had already made an entrance to the netbook category; and the product is iPhone.
The Apple's CEO underlined that they don't have any immediate plans to enter the netbook category, and will watch closely the nascent category for now. We'll have to keep this in mind: Steve didn't officially wave off any comments if Apple indeed already made its own (prototype) netbook.
But the rumor mill doesn't stop at all, in fact it keep on churning faster and louder than before. There are hidden signs inside every news related to Apple, directly or indirectly; they all are pointing to the shadow of Apple's netbook that seems to be just around the corner.
Apple's netbook made a brief on-line appeareance?
It all started to spark again when John Markoff, the New York Times technology writer said that an undisclosed search engine firm has noticed an "unannounced product" from Apple in its web visit logs.
The "unannounced product" reportedly has a display resolution somewhere between iPhone 3G's screen resolution (480x320 pixels) and the 13-inch MacBook (1280x800 pixels). The description matches with most today netbook's screen resolution.
Intel 'bends over' to please Apple
You may have heard the news too; about two Intel's executives: Shane Wall and Pankaj Kedia who said at the company's Developer Forum in Taipei that "ARM chips can't handle the Internet". By that, they were saying devices with ARM processors are not as good as those which use Intel's Atom processor.
They even singled out the iPhone as an example, where of course that kind of comment make Apple's ears turn to red. Just days afterward, Intel issued a correction statement regarding that comment.
Anand Chandrasekher, the head of Intel's low-power efforts acknowledged that Intel's low-power Atom processor does not yet match the battery life characteristics of the ARM processor in a phone form factor.
Furthermore, Intel licked-back the spits made by the aforementioned two executives in its Chip Shots blog: "Apple's iPhone offering is an extremely innovative product that enables new and exciting market opportunities. The statements made in Taiwan were inappropriate, and Intel representatives should not have been commenting on specific customer designs."
This is a strange phenomenon, Intel has never apologized before, even when it was slamming IBM's Power server chip (a competitor to its Itanium processor). I'm just gonna use Tom Krazit's (C|Net) genuine words that he said so ingenuously in his blog: "But one offhand remark surfaces about Jobs' iPhone, and Intel bends over backward to smooth things over." ~big LOL~
There must be some kinda hidden agenda, if Intel is so willingly to go that far for Apple. It seems like Intel is desperately trying to sell its Atom processor, its MID (Mobile Internet Device) & the UrbanMax concept to Apple so bad.
You know how it works; those big companies CEO are always oiled up the pathway so they can easier slide in their products to get more share. And right now, Apple is the hottest company to flirt with wide range of categories to conquer: laptop, desktop, music, & mobile phone.
ARM stretches to netbook category
ARM definitely is not sitting back and stays still, while watching its share taken away by Intel. Rob Coombs, director of mobile solutions at the U.K. processor design company, told ZDNet UK that they plan to enter the netbook category too with the new Cortex-A8 & A9 based application processors.
"In the future, we're going to be in Netbooks," Coombs said. "Expect announcements in the next few months."
Cortex-A8 is planned to replace the aging ARM11 microarchitecture, which is used by most ARM-based smartphone nowadays. The Cortex-A9 is a multicore processor, which provides power advantages as multiple cores running at a lower speed can process more instructions per watt than can single high-speed cores.
And we know Apple is using ARM processor to power up its iPhone, so it won't be a surprise if we're going to see a device sized bigger than iPhone to take advantage of the new ARM's Cortex-A8/A9 processor. Does the "unannounced product" mentioned above fits in the description? ;-)
It all winds up looking like Intel apologized to Apple, in order to beat ARM in supplying the Cortex processors for Apple. And if we're to believe Apple is not going to refresh the iPhone any time soon, because it already did that with the iPhone 3G; so what do you think this processor supply race is for? *wink*
Intel shows off new tech for ultrathin laptop
Intel is indeed a big company, humongous to be precise, so it easy for Intel to make research for new technologies compared to any of its competitors in any categories (computer processor, platform, memory, etc.). One of the latest new technologies introduced by Intel is a system using laminar air flow technology in jet engine to move the heat off a laptop's skin.
"When you design a very thin system, cooling the skin is a very big challenge," said Mooly Eden, general manager of Intel's Mobile Platforms Group at the Intel Developer Forum in Taipei. "If you put (a laptop) on your lap, it can feel very uncomfortable. Very hot." This is one of the biggest hurdles to designing an ultrathin laptop like the MacBook Air or HP's Voodoo Envy 133.
"If this problem isn't solved, laptops can't be made thinner and thinner," Eden added. "We are licensing it to our customers so they can keep making thinner and thinner laptops."
With this new cooling technology from Intel, it's possible for any laptop manufacturers to create ultra thinner design than Apple's MacBook Air. Heck, perhaps Apple is already in the know and used it in that "unannounced product"?
Apple has previously enjoyed special treatments from Intel, such as the unusual Core 2 Duo chip used in the first gen of MacBook Air. Intel might have to "bend over" more again to give the needed push for them to keep the relation in harmony… ~LOL~
Sources are from:
[blogged with my Treo 750v]