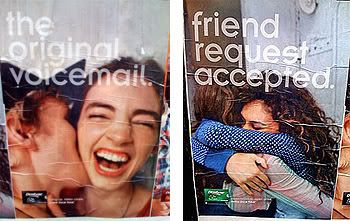 Let's go a little off topic from the usual boring mobile news & techs for today, and put a tiny smirk on our face for once in awhile; shall we? ;-)
For you New Yorkers, have you seen these Dentyne's ads on the streets? Dentyne is taking the wave of mobile & internet trends, for its own advertising concept.
Richard Blakeley from Gawker Media is being annoyed by those ads, because one of the ads copy-cat Facebook's "friend request accepted" line (the one on the right). The whole ad lines are: "Friend request accepted. Close browser, open arms. Make face time."
And the other ad that Richard has taken and sent is: "The original voicemail, hang up, listen close, make face time." Which personally I think the ads are quite creative. ;-D What do you think?
[blogged with my Treo 750v]