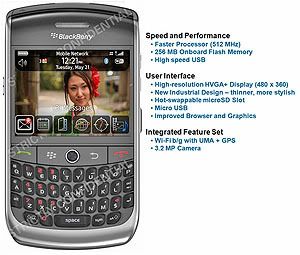 Good morning everyone, sunshine has shown its smile on this beautiful Sunday and I do hope today you'll wear a big smile on your life as well. And so, to start with today post; let's start with the new found of BlackBerry Javelin market screen caps.
As told by CrackBerry (via Gizmodo); the screen cap images you see like the pictured left is dated at May 21st. So we should expect different out come from the real one when it's finally released.
Anyhow, the new screen cap images show more hardware specs such as:
512 MHz Processor
256 MB onboard flash memory (more room for apps)
Hot-swappable microSD slot - located under the battey door
480 by 360 high-res HVGA+ display
3.2MP camera
Micro USB charging/syncing port, w/ high speed data
Head on to the respective websites to see more images.
[blogged with my Treo 750v]