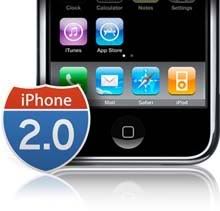 I've talked before about Apple's new agenda to enter the world of corporate and enterprise companies, it is another step that Apple has to take in order to increase the earnings for its new 'cheap' iPhone 3G. Where it's actually not that 'cheap', if you're interested to know more then please read about it on my other previous post here at Palm Addict.
When Steve Jobs announce the new iPhone will be armed with faster data network (3G) and GPS, many mobile users have rejoiced to hear it. But for software developers and enterprise companies, the main light of the WWDC '08 conference there is not the iPhone 3G itself only; the other one that's playing important role in the new iPhone 2.0 platform is the iPhone SDK. Read my 'other' post too, here at Palm Addict.
Stressing the use of the iPhone as an enterprise device, Jobs launched iPhone 2.0, a new software platform for the iPhone that includes a software developer kit (SDK). IPhone 2.0 will allow enterprises to push e-mail and contacts from an Exchange server to the iPhone. Also new is support for Cisco IPsec VPN (virtual private network) for encrypted access to corporate networks.
"
With support for Microsoft Exchange and other features, Apple has responded to requests from enterprise users who live by their mobile phones", said Ahmed Datoo, vice president of marketing at Zenprise. "Location-based applications could appeal to enterprises like transportation companies, who can use the iPhone's new GPS capabilities to track inventory", he continued.
However, applications developed using the iPhone 2.0 SDK will be distributed using Apple's App Store, which will require users to install iTunes on the iPhone, Datoo said. Enterprises may hesitate using iTunes, what is considered a consumer application.
This is a minor pain point for two reasons. First, not every company wants to install iTunes--or really, any media player--on its desktops. Remember that in the enterprise, the user won't be responsible for buying or provisioning the phone, so the iTunes requirement forces an IT admin to relinquish some degree of control. Second, using iTunes means a wired connection to the desktop, and, in most environments, wireless distribution is just more convenient.
Steve Jobs spoke of three different ways to distribute iPhone apps. The first, via the App Store, is aimed squarely at the iPhone's consumer base. Another method, Ad Hoc, that essentially lets developers beta test apps. Then there's the approach for enterprises--and it's one IT departments will find much more palatable than any App Store-based plan.
The way it's going to work is conceptually simple. A company will authorize specific iPhones for its needs. The company then writes the in-house applications that will only run on those company-authorized phones. The applications are distributed to the iPhone users' Macs or Windows machines, and installed onto those users' phones via iTunes. But nevertheless, it still uses iTunes for the distribution.
Minor issues aside, the keynote announcement showed that Apple paid attention to the way businesses want to control how their in-house applications are used and distributed. Apple came up with a distribution methodology that will work for almost any industry.
Apple's market approach with the iPhone differs from RIM, said Jack Gold, principal analyst at J. Gold Associates. The Blackberry was built as an enterprise product and is trying to enter the consumer market. Apple built the iPhone for consumers and is now trying to enter the enterprise, which is more daunting task, Gold said.
A new update emerged from AppleInsider who has learned that developers submitting content to the App Store will have wide-ranging control over how their app is offered, but face a definitive limit for the size of their apps. The App Store will limits the size up to 2GB, and the price caps at $999 tag.
Here are the exact lines from AppleInsider: "People familiar with the matter say that apps uploaded to the Apple-run service via iTunes Connect have been given an absolute file size limit of 2GB that may prevent some developers from producing software with very large, integrated data sets. Apple doesn't say whether the limit is technical or for other reasons. Importantly, pricing is described as a tiered system rather than an arbitrary price point chosen by the producer. Those who want to charge for apps can ask users to pay as little as 99 cents at the US store up to a maximum of $999.99; each tier moves the price up by increments from between $1 to $100 depending on the relative price difference."
Unfortunately, AppleInsider has removed the images from its website. But they left one image that shows us about an email from Apple, which contains confidential informations regarding this new policy on App Store.
So it'll depend on Apple next move from now on, whether to let its infant new business branch grow prosperous for enterprise market; or weed it before it reach its maturity. One thing we know of, Apple always control all of its branches down to the last details. A typical act that often coming from Steve Jobs' psychedelic mind. The big question is; will it work again this time? Time will tell, my friend.
Sources are from:
[blogged with my Treo 750v]