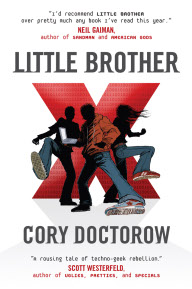 [From Stan Medina, OH] Hi Sammy, Just wanted to drop you a quick note and tell you how much I appreciate your efforts in keeping the website up and running. As always, I enjoy visiting the site at least once a day to see what's new and keep up with Palm and handheld related news.
I don't think that anyone has mentioned this on the site yet, but Cory Doctorow, one of my favorite authors, has just released a new book called Little Brother, which you can buy on Amazon.com, in any bookstore, or if you prefer to read it electronically, you can grab it for free from his website at: http://craphound.com/littlebrother/download/
There are several different versions of the book, depending on your preference. I think that this is a great way to market a new book and I hope that Cory continues to have success in offering his book for free as well as in print for a nominal price. Either way, you can't go wrong.
I just grabbed in the Mobipocket format and am looking forward to reading it when I get a few free moments.