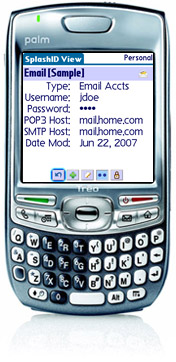 In reading
yesterday's post by Eivind Flateland on SplashID
, I already knew how important keeping a list of user IDs and passwords on my Treo was, as I have been a long time user of
eWallet
from
Ilium Software
. And even though I've been a Mac user since 1984, I've relied on Windows for many years as my main computer. But three years ago, I switched all of my personal computing 100% to the Mac.
I have continued to use
eWallet
, but there is no desktop application for the Mac. So I must rely on having the application on my Treo 755p. The
eWallet
database is backed up each time I do a HotSync, but there are times when I would like to add new entries on my MacBook Pro.
Now with SplashID, I can have both options. As a new user of this software, it is easy to use and not too difficult to create new entires, categories and card types. The biggest negative so far is that there is no import from eWallet, so I must manually re-enter all of my data. This will be time consuming, but once I am done, I can be assured that my data will be accessible in both places.
So thanks to SplashData, Eivind Flateland and others here on PA that have recommended SplashID.