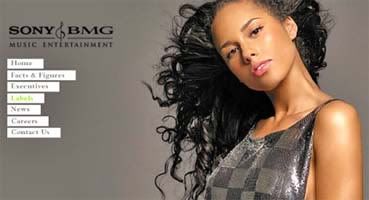 Apple was having a difficult time back then with their fight with Warner Music on DRM terms, and at that time the freedom to download and move your own musics to any music devices seemed diminish over time up until now. Sony BMG is teaming up with Nokia to launch a partnership in distributing legal musics along with Nokia's handsets, which Nokia called its service as "Comes with Music".
The deal is that you can only download Sony BMG's featured artists such as Alicia Keys (hey, don't stare too long at her picture there ;-D), Foo Fighters, etc. after purchasing a selected Nokia handset. For one year, you're elligible to transfer any of those downloaded music files into your PC or to a new Nokia handset. At the last year, you'll have a choice between acquire a new music or join Nokia Music store's subscription service.
As reported by Greg Sandoval (Crave) here, this big step of partnership shows a huge support into free musics. And an attempt by music industries to fight back piracy, shrinking old distribution form in CDs & eventually Apple's DRM-trouble iTunes!
Of course Apple is not going to sit down and watch their piece of iTunes market cake got eaten by Nokia, rumor has it that Apple is on discussion with music labels for similar offers like Nokia's Comes with Music program.
It's so exciting to know that your favorite mobile manufacturers are all trying to bring better additional services to pamper us, but how about Palm? Looks like Palm is still relying on selling its branded smartphones with basic features...
[blogged with my Treo 750v]