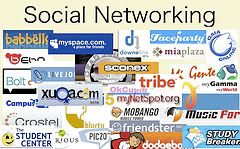 What is it about social networking that attracts people so much? Is it making new friends, meeting with old buddies, fishing for a new partner, sight seeing on what kind faces other people have out there? Whatever it is, social networking has become a part of our modern digital life. There hasn't one person I met these days that don't have an account such as Friendster, Facebook, MyYearBook, Hi5, etc. Some even have decorated their home profile to look like a fancy superstar web site, but many just simply leave it by default and don't want to be bothered by those confusing options & choices. I am actually is that last kind of person mentioned, because I dislike to be cumbered tuning up my home profile site with those available applications. And I bet many of you have been doing this social networking with your mobile phones too, using the application provided by the social network sites you're on.
But somehow things are about to change in the way we're using social networking in the future, because the OpenSocial platform that's launched in November by Google; has just got a new major member: Yahoo! Before that, MySpace already supported the OpenSocial platform as well, where Steve Pearman the senior vice president of product strategy at MySpace said Yahoo's support is an "important addition". These three companies will work together to make a new set of APIs (Application Programming Interface) for making applications in every social networking sites, the specifications of those APIs will be based upon Creative Commons copyright license.
On Microsoft's (MS) side, where the big software giant doesn't want to be left behind in social networking race; MS just posted at Windows Developer weblog that they made an agreement with Facebook, LinkedIn, Bebo, Hi5, and Tagged to use Windows Live Contacts API to exchange contact informations. This means those mentioned social networks you use are allowed to invite your Windows Live contacts to join in directly, and vice versa. No more hassle when you had to enter user name and password of your accounts, every time you need to add new friends. According to the blog post, only Facebook and Bebo are the ones that start from today to use this new agreement.
It all looks promising to make easier on how we do social networking in the future, but what I really wish to see is how all of this can improve my experience in mobile social networking (with my Palm Treo 750v of course!)
-Sources are from PC World articles-