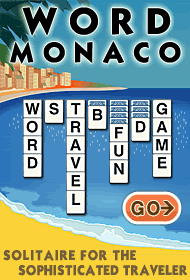 I downloaded the trial version of Word Monaco for Windows XP last night. Let me tell ya, if you think that the Palm OS version is addictive, you've GOT to check out this Windows version! This game was soooo much fun!!!! As soon as my 30 minute trial ran out, I immediately bought the game! I played it almost all night even though I had to get up early and go to the dentist! I just couldn't stop playing! Wow Todd Sherman, you sure know how to creative a fun and addictive game! Shame on you! ;-) I'm already so addicted to Farkle and Word Monaco on my Palm device! Now I'll never have time to do anything else but switch between my desktop PC and my Palm and keep playing these great games!!!!
Word Monaco for Windows XP has wonderful graphics and sound effects and some great background music to set your mind right into Monaco of the 1950's! When you make a really good word, a female voice praises you!heehee! One time she said, "Ooh La La!" I love it! Do yourself a favor and go check out Word Monaco for Windows XP! And the game will be available for all you Mac owners soon!
"Relax under the warm sun of the Mediterranean and play a cool game of word solitaire. Create words by moving letters from column to column. When all the letters are used, you've won! 75 engaging levels, at six beautiful locations, equals hours of fun. Try it today."


Features

75 levels for hours of fun
Stunning graphics and animations
Endless variety as no two decks are alike
Earn points to qualify for the high score list
Power Ups to increase your score and to change the deck
Well, I know I need to get in bed since it's going on 2am but I just have to play a few rounds of Word Monaco on my computer first!