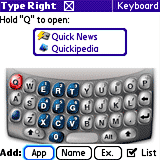 I've briefly mentioned TypeRight from Standalone a few days ago. At the time, it was so new that Standalone hasn't updated their own website. I've since tried it and updated to the newer version and this application is exactly what I've been looking for. I've often thought it was silly that we have all these keypad buttons available but yet we can't set them as button shortcuts to launch an application like we can with the hardware buttons. But finally, Standalone has come up with a solution.
TypeRight will allow you to set a Palm program, contact, extension like turn on the Phone, etc to be launched simply by holding a keypad button. And this program will do it in any application you're in! You can also bring up a QuickBar and select the program you want to launch including websites. Wow! Besides launching a program, you can set a list of programs instead when you press and hold the button. Then use the directional keys to scroll to your desire program, select and you're there.
The latest beta version now includes the Command Bar as well as displaying the time, RAM, reception and battery at the top. I'm asking for the implementation of launching hotsync as an extension so fingers are crossed if they will implement this in their next beta release.
All I can say is that this looks like something I've always wanted and thank goodness it's here.