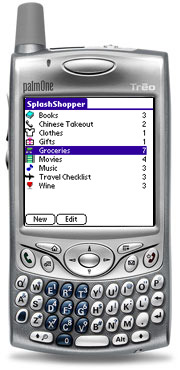 Over the last few weeks I've been trying out a couple of programs from Splashdata.com. I was planning to do a review of both of them at the same time, but once I started using them it was clear that separate reviews are in order. The main reason for separate reviews is that these are both such powerful, feature-rich programs.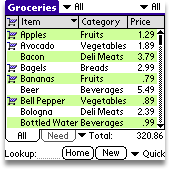 So, what did I think?
On a scale of 1-5, I would give SplashShopper a 5! It is easy to learn and use; has a great user-guide and the Desktop version puts it over the top for me! I was thrilled to learn that I could import my current HandyShopper list into SplashShopper, it made the conversion so easy! I've been a long time HandyShopper user and had my doubts I want to make a change long-term --- but after using SplashShopper there is no going back.
Program Overview:
SplashShopper is a shopping list application for PalmOS. Its perfect for keeping lists of groceries to buy, movies to rent, CDs to buy, books to read and more!
SplashShopper Desktop (included, for Windows & Mac) provides identical functionality to SplashShopper on your Handheld plus some added features -- the ability to copy/paste, print and import/export (file types: SplashShopper VSH, CSV, HandyShopper PDB/CSV/TXT, PDA Cookbook TXT)
You can create a shopping list in a flash: Use the "All View" to create a comprehensive list of items. The next time you go shopping --- tap next to the items you need to select them --- then go to the "Need View" and you will have just the list of things you need, with check-boxes to check off as you add them to your shopping cart.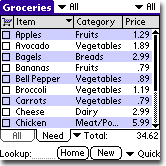 Features include… (in order of importance to me…)
- Create unlimited number of shopping lists, each with its own categories, icon and 2 custom fields
- Easily synchronize (hotsync) data between your Palm and your computer
- Customize the column display, row coloring and sort order for each list – you can also show/hide columns and adjust column widths
- Easy sorting by tapping column header
- Filter views by store or category
- Quickly enter items using auto-fill
- Enter text in the "Lookup field" (bottom left of screen) to quickly look up an item
- Create and use "quick-lists" for frequently purchased items and/or special events (e.g. party supplies or softball team snacks)
- Create one-time-buy items by selecting Auto-Delete in the item details dialog box - Navigate lists using hardware buttons
- Assign Items to multiple stores & track per-store prices (convenient for Items purchased only once, or special sale items)
- Enter a tax rate (optional), if you wish to calculate tax into the Total cost
- Create cross-platform vShop files for sharing customized SplashShopper lists with other users
- Supports Hi-Res displays and fonts (up to 8 sizes), including landscape screens; Treo and Tungsten 5-way nav and Sony jog-dial support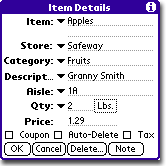 Splashdata.com offers a family of lifestyle applications for all PDAs and Smartphones. They are currently offering some great specials! Hint: they also offer free trial versions!
SplashMoney & SplashShopper -- For a limited time, buy one, get one free! Cost: $29.99
SplashWallet (includes: SplashID, SplashPhoto, SplashMoney, SplashShopper) for 50% off. Cost: $59.95